Hip Lik CLEAR PROTECTIVE FACE SHIELD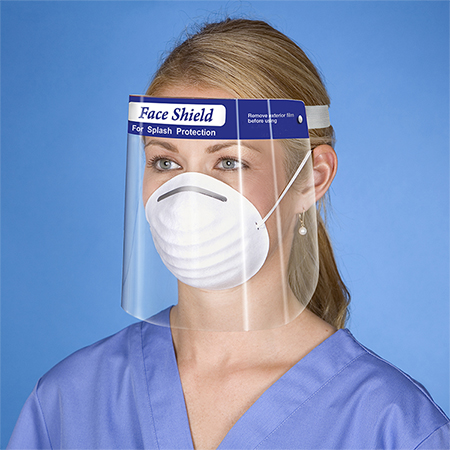 As the world's largest producer of plastic folding boxes, we are uniquely qualified to produce single-use face shields. We manufacture our face shields using the same raw materials, technology and equipment that we use to make our plastic packaging, and we have repurposed a significant portion of our manufacturing capacity to make them. To date, we've supplied tens-of-millions of face shields to government and medical agencies Asia, Europe and the United States.
In addition to one-piece and two-piece face shields that we designed, which ship flat and require a minimal amount of hand assembly, we now offer a ready-to-wear face shield with a foam forehead pad and an elastic headband (as seen in the photo to the right). All three designs are economical, lightweight, and fit over glasses and/or masks. And all three designs have been evaluated by a third-party testing organization and are certified to meet both the United States and Europe protection standards.
Our face shields are considered Class 1 medical devices and have been authorized by the FDA as personal protective equipment for use by healthcare professionals for medical purposes.
Click here for one-piece & two-piece face shield
ACT NOW!
News update:
-
Green light from Italy organization "INAIL" to personal protective equipment; Hip Lik Packaging is on the list.
-
Face shields AND face masks now mandatory on Qatar Airways
Certification
TOP